Sarasota is both a county and a city on the southwestern coast of Florida that celebrate beach life to the fullest. The area boasts some of the most spectacular beaches in the United States, including those at Lido Key, Longboat Key, Manasota Key, Siesta Key, and Venice.
The community is divided into five distinct districts, each with its own flavor, including Burns Court, Gillespie Park, Historic Palm Avenue, Rosemary District, and Towles Court.
The city of Sarasota is peppered with artist studios, boutiques, restaurants, salons, yoga studios, resorts, and a rich art and culture scene.
Things to do in Sarasota, Florida
Sarasota, Florida, is chock full of things to do, indoors and out, on land and in the water, including boating, fishing, swimming, golf, and more. Here are just a few of the things you can do for entertainment and recreation in Sarasota, Florida.
Steeped deeply in art and culture, Sarasota offers generous options for music, dance, and theater, including the Asolo Repertory Theatre, Florida Studio Theatre, Sarasota Ballet, the Sarasota Opera, and more. You can also enjoy a visit to the John and Mable Ringling Museum of Art.
Sarasota Jungle Gardens features hundreds of native and exotic animals, many rescued or donated, situated on 10 acres of tropical landscaping enhanced by winding trails. The venue, one of the oldest operating facilities in the area, focuses its efforts on entertainment but also on education.
Marie Selby Botanical Gardens Downtown is a slice of paradise sprawling across 45 acres. The bayfront sanctuaries allow people to connect with native plants and plants from around the world. In addition to exhibitions and events, Marie Selby Botanical Gardens also features educational and special programs to foster education.
Homes for Sale in Sarasota
Education in Sarasota, Florida
The Sarasota County Public School District governs public schools in Sarasota. Within the district, there are 15 elementary schools, five middle schools, and six high schools.
There are also private schools throughout the area, including The Classical Academy of Sarasota and Sarasota Christian School.
Higher education is close to home, with a variety of public and private colleges in and around Sarasota, including schools specializing in the arts and in modern and alternative medicine.
Sarasota is also the proud home of the Sarasota School of Architecture.
Public Transportation in Sarasota, Florida
Bus service in Sarasota is provided via the Sarasota County Area Transit, also known as SCAT. In addition, SCAT offers limited connections with Manatee County Area Transit.
Residents and guests flying in and out of Sarasota do so primarily through Sarasota-Bradenton International Airport, the major airport in the area.
There are two additional airports within an hour from Sarasota, including the St. Petersburg-Clearwater International Airport and Tampa International Airport.
Living in Sarasota, Florida
There are about 58,285 people making themselves at home on the stunning shores of Sarasota, which spans a total of 14.9 square miles.
Among its residents, the Sarasota annual median household income is about $47,432, slightly below the state's median household income of $52,594 per year.
Homes in the area hold median values of $215,954, which is just above Florida's median home value of $214,000.
The Climate in Sarasota, Florida
Sarasota is known for its beautiful weather, which lends itself perfectly to outdoor recreation and fun in the sun. Where the rest of the country averages just 205 sunny days each year, Sarasota soaks in 251 days of sunshine.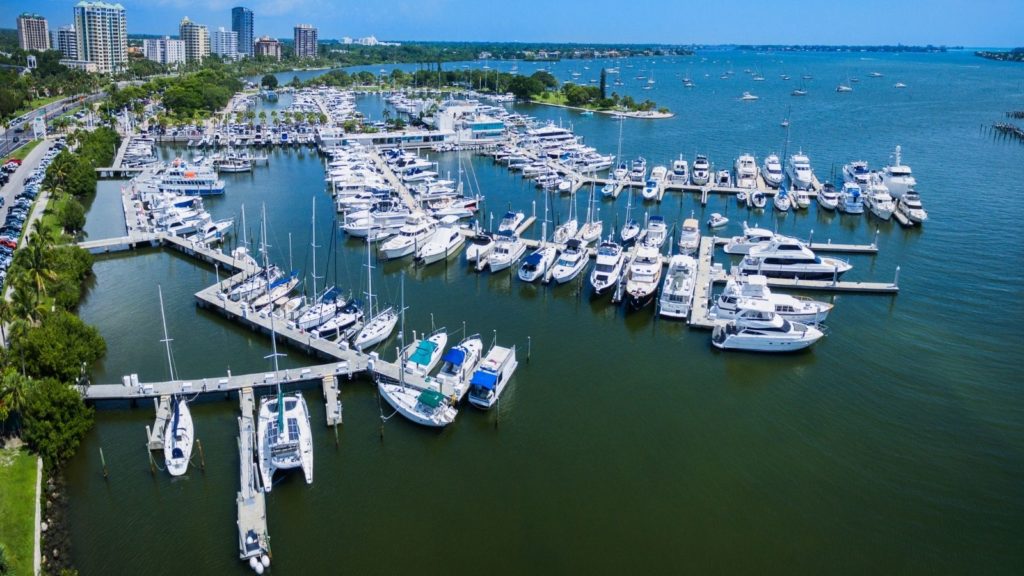 The caveat is that it also gets more than its fair share of rain, coming in at 56 inches per year over the national average of 38 inches annually, but it doesn't snow.
Summer temperatures stay far below 100 at an average of 91 degrees, while winter lows stay comfortably above freezing at 51 degrees.
Conclusion
Sarasota creates a dreamy beach life environment infused with history, art, culture, entertainment, recreation, casual and fine dining, and more.
The city features an outstanding public school system with private schools and higher education also close to home. When not having fun in the sun on its plentiful beaches, there are plenty of places to shop, play golf, and pamper yourself in a resort atmosphere.
When you're ready to find your ideal Florida home where you can relish in all the benefits of beach living, consider setting your sights on beautiful Sarasota, Florida.
Have Questions?
Give  The Buetergerds Group a call today to learn more about local areas, discuss selling a house, or tour available homes for sale